World
Huge protest in Israel against right-wing government's judicial changes | Israel
Around 100,000 people took to the streets of Tel Aviv on Saturday night in what protesters described as a "struggle for the fate of Israel" against sweeping judicial changes proposed by the new far-right government.
Israel's longtime Prime Minister Benjamin Netanyahu returned to office last month leading a coalition of conservative and religious parties that make up the most right-wing government in the country's history.
The new administration has accused Israel's Supreme Court of leftist bias and overstepping its authority, and is aimed at limiting the powers of the court giving the Knesset more control over judicial appointments and severely restricting its ability to overrule laws and government decisions.
The Tel Aviv demonstration, as well as smaller demonstrations in Jerusalem, Haifa and Beersheba, were sparked by fears that the large-scale proposals would undermine democratic standards. Since Israel does not have a formal constitution, the Supreme Court plays an important role in vetting government ministers.
Netanyahu – himself on trial for corruption, which he denies – defended the plans. Opponents say the proposed changes could help the prime minister escape conviction or even see the case dropped.
Israeli opposition leader and former Prime Minister, Yair Lapidalong with several other figures from across the country's political spectrum, addressed protesters in central Tel Aviv on Saturday as crowds waved the blue and white national flag and held up signs reading "No to dictatorship."
"We have here on the streets representatives of many groups who don't usually come out to protest, but they are here, even sworn right-wingers," said one speaker, famed novelist David Grossman.
"This hugely diverse group is ready to put aside its differences and fight this existential fight… In its 75th year, Israel is engaged in a fateful struggle for its character, for its democracy and for the status of its rule of law.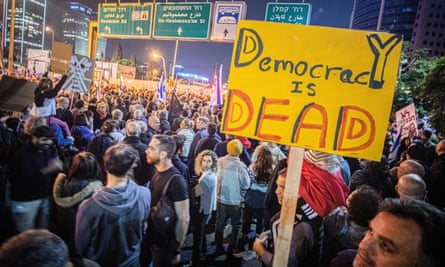 Noya Matalon, 24, a law student at Tel Aviv University, said: "The last major protest movement in Israel was aimed at overthrowing Netanyahu, but it's no longer a question of right and left. Everyone – Arabs, Jews, even people who agree that we need justice system reforms – everyone says they're scared.
Musician Ollie Danon, 23, canceled a show scheduled for Saturday night so he and members of the public could join the protests instead. "There is a crisis of political engagement here after five elections in a short time. There was a feeling that it was all about Bibi," he said, using Netanyahu's nickname.
"It's bigger than Bibi now, though; it is an emergency. I believe the Supreme Court needs to be reformed. Its decisions generally support the occupation [of the Palestinian territories], and somehow now it's the left wing protesting in defense of it. Everything is absurd.
Saturday's rallies build on similar protests in recent weeks, including one in Tel Aviv last weekend that drew 80,000 people, nationwide protests by students and one outside a Tel Aviv courthouse. Roee Neuman, one of the organizers, said more street protests were planned, along with strikes.
"I am optimistic that things can change, although I am not optimistic about the state of Israel at the moment. We will redouble our efforts: we are coordinating strikes in sectors that would normally never be involved, such as lawyers, doctors and the technology industry. We can block the roads.
"It's hard to predict what's going to happen, but I think if it starts to hit the economy, they'll have to listen."
In addition to the growing protest movement, the prime minister has come under pressure from Israel's attorney general after a ruling last week that disqualified key ally Aryeh Deri from holding a government post due to a conviction for tax crimes.
Netanyahu was forced to fire Shas party leader during Sunday's cabinet meeting, declaring as he did that "the decision of the High Court ignores the will of the nation".
The coalition also faced an early test on Friday in the form of a disagreement among cabinet members over the dismantling of a new Jewish settlement in the Occupied West Bank.