World
Dozens injured and police stations attacked as protests continue in Peru | Peru
Dozens of Peruvians were injured when tensions erupted again on Friday night as police clashed with protesters during anti-government protests that are spreading across the country.
In the capital, Lima, police used tear gas to repel protesters throwing glass bottles and rocks as fires burned in the streets, TV footage showed.
In the southern region of Puno, around 1,500 protesters attacked a police station in the town of Ilave, Interior Minister Vicente Romero said. A police station in Zepita, Puno, was also on fire, he said.
Health authorities in Ilave reported eight patients hospitalized with injuries including broken arms and legs, eye bruises and punctured abdomens.
By late afternoon, 58 people had been injured across the country in protests, according to a report by the Peruvian mediator.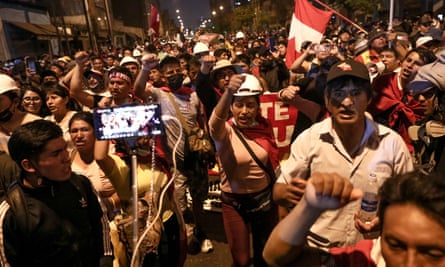 Trouble followed a hectic day on thursdaywhen one of Lima's most historic buildings was set on fire, as President Dina Boluarte pledged to get tough on 'vandals'.
The destruction of the building, a nearly century-old mansion in central Lima, was described by officials as the loss of a "monumental asset". Authorities are investigating the causes.
Romero said Friday that the fire was "duly planned and organized."
Thousands of protesters descended on Lima this week to call for change and angered by the rising death toll from the protests, which officially stood at 45 on Friday.
At the start of Friday's demonstrations, protesters appeared more organized than the day before and they took control of the main roads in downtown Lima.
Police appeared more combative than the day before and after monitoring protesters stuck in the streets of the city center began firing volleys of tear gas.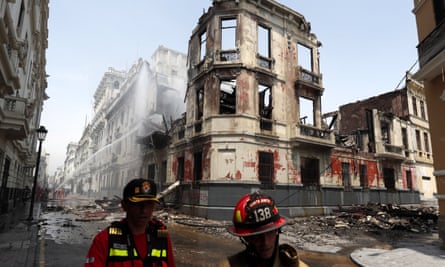 Protests have rocked Peru since Pedro Castillo was ousted from the presidency in December after he tried to dissolve the legislature to prevent an impeachment vote.
Boluarte rejected calls for him to resign and hold early elections, instead calling for dialogue and promising to punish those involved in the unrest.
In the Cusco region, Glencore's main Antapaccay copper mine suspended operations on Friday after protesters attacked the premises – one of the largest in the country – for the third time this month.
With Reuters and Associated Press