Business
Job vacancies data misses recent recovery in layoffs, Goldman economist says
According to new research from Goldman Sachs, the Labor Department's job openings report may not reflect the recent upturn in layoffs.
Manuel Abecasis, a Goldman Sachs economist, reviewed layoff notices filed under the Worker Adjustment and Retraining Act, which requires companies to notify state governments and affected individuals of their intention to lay off workers. 500 or more employees 60 days in advance. The WARN Act also applies to companies that cut at least 50 jobs when a job site is closed or the number of layoffs is at least one-third of the total workforce.
WARN Advisories from seven large states — California, New York, Texas, Florida, Pennsylvania, Virginia and Ohio — tend to track the national situation very closely, which is helpful since some of the smaller states are late in reporting data. And WARN Act data from major states is more recent than the Department of Labor's Job Openings and Turnover Survey, or JOLTS.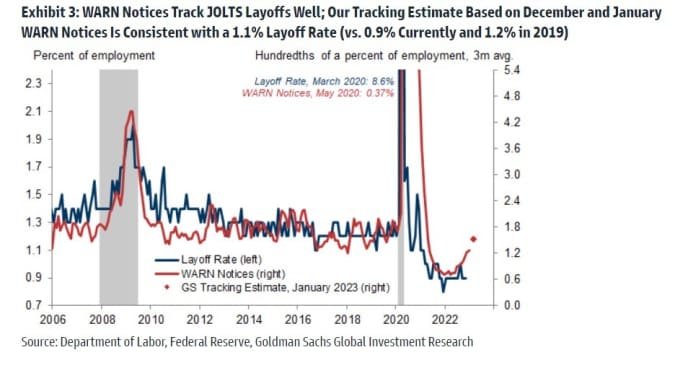 Abecasis says based on the December and January WARN notices from the Big Seven states, the layoff rate is about 1.1%, higher than the 0.9% layoff rate in the November JOLTS report. He adds that the data from the WARN notice is consistent with the results of a recent Conference Board survey.
Admittedly, a layoff rate of 1.1% is still historically very low. But the recovery is significant for Federal Reserve policymakers, who say the job market remains too tight. At the press conference following the December meeting, Chairman Jerome Powell said the labor market continued to be "unbalanced".
The policy-sensitive 2-year Treasury yield TMUBMUSD02Y,
4.219%
was 4.22%. The S&P 500 SPX,
+0.40%
has climbed 13% since its mid-October low on hopes that Fed policy won't need to be as tight as Fed officials say it needs to be.